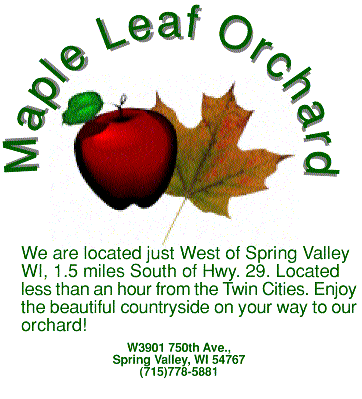 We are open every day 10:00 AM-5:00 PM Labor Day thru Halloween, and then Wednesdays and Saturdays in November and December up to Christmas.
Over 30 apple varieties are available throughout the Fall. Not sure what you like? Let your taste buds guide you with our fresh samples. In addition to Pick Your Own apples on the weekends, we will still have apples available in the shop every day, plus we will have Pick Your Own grapes, raspberries, and pumpkins in our 5 acre patch every day. Enjoy a fun family experience with our weekend hayrides to Pick Your Own apples (PYO varieties determined by ripeness and availability). You can like us on our new Facebook page, where we will post the Pick Your Own varieties for each weekend, or call ahead to see if your favorite variety is ripe and available 715-778-5881. Our bakery is open on weekends with delicious apple cider donuts (Saturdays and Sundays), apple pie (Fridays and Saturdays) and apple crisp (Sundays). Our fresh unpasteurized apple cider is the best! We also have pears, squash, pumpkins, potatoes, maple syrup, honey, jellies, etc. Thank you to all of our loyal customers!
Visit Mark at the St Paul Farmers Market on Saturday mornings, May through October..